I guess there is a benefit to travelling on the same ship for 21 days. I now have platinum membership which gives me a few benefits (Thanks for sorting it Shaun). One of those is a free tour of behind the scenes on the ship. It is actually one tour that I really enjoyed. I was told that 200+ people signed up for this tour at a cost of $55 each but only 30 platinum members got to go on it in two separate groups of 15.
To start with we were taken to the Galley and got to see where they make the food. This ship produces 21,000 meals a day and the kitchen staff are on duty for 11 hours at a time (with breaks in between). That is not a job I would enjoy!!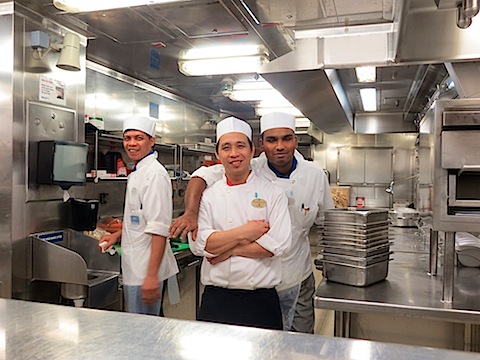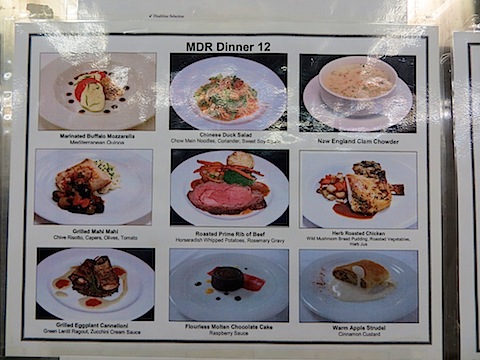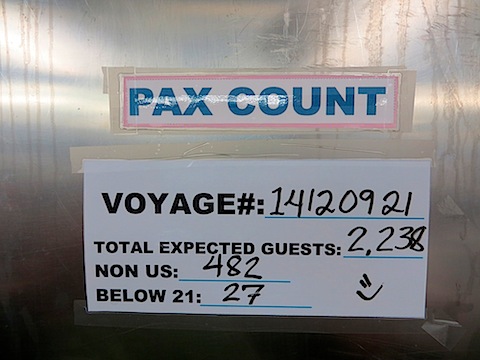 Next stop was the Bridge. It's amazing to see what actually drives the ship. In the photo below, the tiny joy stick between the track ball and the binoculars is what steers the ship. Go figure!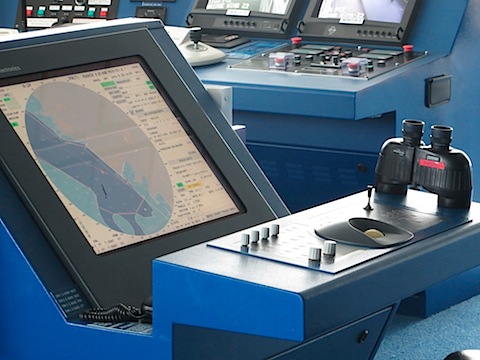 Apparently this "little" baby will move at 28 knots full speed and use 3 gallons of diesel per second at that speed. That's a hell of a lot of fuel.
It's manouvorability (is that a real word?) is excellent and those levers below will even allow the ship to move sideways to allow the ship to get closer to a port for example.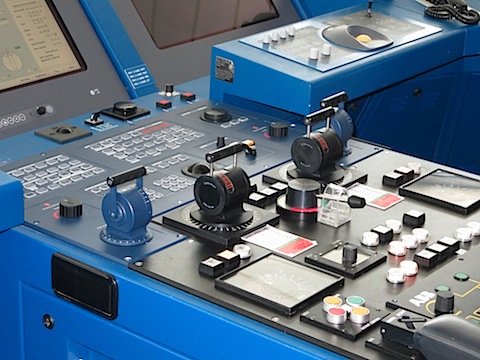 Finally we were taken to the laundry. Now bearing in mind that there are 3000+ people on this ship (including crew) the odds that I walk into the laundry and see my own pile of clean washing has to be pretty low… but that is what happened. It was all nicely folded and in a basket ready for me.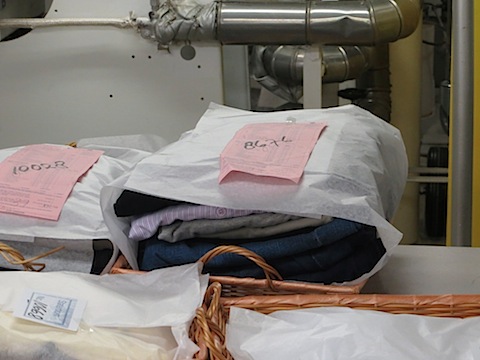 The washing machines and dryers on the ship are huge but what impressed me most was the machine they used to iron and fold (yes, FOLD) sheets, towels etc. You put the linen in at one end and it comes out pressed and folded at the other. I'm so impressed that I want one for home. Problem is that I think it might take up my entire flat and then some!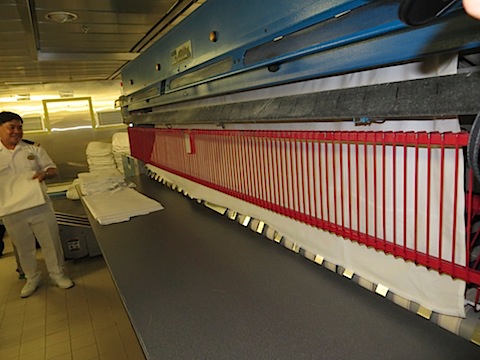 There wasnt a single person on that tour who didnt walk away impressed at the way things are done on board and everyone said how good it was to be able to go and have a look so if you ever get a chance to go behind the scenes on a cruise ship… DO IT!!!